Helping families in crisis.
Society of Samaritans
Since 1986, SOS has been providing food, clothing, emergency financial assistance, and spiritual support to families in need in the Greater Magnolia area.
We serve over 400 families and 1200 family members each month.
SOS understands there are times when unexpected events occur in the lives of families and individuals that often result in financial hardships. We strive to enhance our client's self-sufficiency while strengthening their dignity and self respect. SOS Family Services helps with the following crisis assistance programs: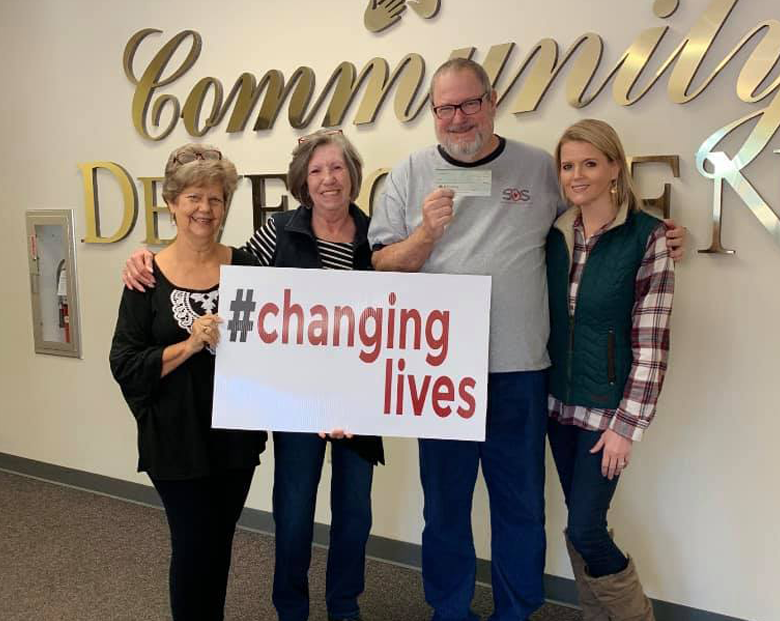 Family Services
---
Financial Assistance - Offers payment assistance with rent and utilities.
Prescription Drug Assistance - Funding for life-dependent prescription medications.
Gasoline Assistance - Vouchers for fuel for medical appointments and job interviews.
Food Assistance - Fresh produce, meat, and dry goods from our Client Choice Food Pantry.
Clothing & Household Goods - Vouchers to shop for clothing, household furnishings, furniture and appliances at The Giving Center located at 603 Little Twig, Magnolia, TX.
Holiday Giving - Holiday meal specific food baskets and vouchers for families.
Summer Survival Snack Sacks - 7 days' worth of nutritional breakfast and lunch food items to school age children for 9 weeks.
Prayer Partners - Available everyday to provide spiritual hope and encouragement.
Food Assistance
The SOS Food Pantry is located at the corporate office located on Friendship Drive. We partner with Magnolia County Food Bank and with the generous citizens of Montgomery County to provide food to families.

We do not discriminate based upon religion, sexual preference, age, ethnicity or race. Our mission is to serve all the community.

​Our self-service Food Pantry allows families to select meat, produce, canned food, bread, pastries, desserts, and toiletries.
Financial Assistance
SOS Financial Counselors assist families with emergency financial assistance to pay for past due rent and utility bills. In addition, families may receive gas vouchers to pay for automobile gas to go to a job interview or for medical appointments. Families may also receive financial assistance to pay for medical prescriptions.
HOURS OF OPERATION
---
MON - FRI: 10am - 2pm
SAT - SUN: CLOSED
---